Gaming Course
Attention course
We have collected the best techniques, useful methods and exercises for rapid attention development. By practicing a few minutes a day, your child will be able to develop the ability to concentrate on tasks and effectively receive information from the world around.
Start training
More details
Why is the course useful?
Paying attention to what you are doing is one of the most important components of success.
Why do children need to develop attention?
Attention is a child's ability to concentrate on particular things, events, processes for a certain time. Training games and exercises will help develop this skill in a person in a light form.
Due to attentiveness, the child will be in teachers' good books, confident in the classes and in society. In future life, such people are more likely to become successful, get higher positions, deal with household problems more easily, always outstrip scattered ones, and less often find themselves in embarrassing situations.
It's easier to learn in silence
Did you notice that your productivity depends on the noise around you?
The louder the classmates talk, the more annoying the music sounds, the harder it is to concentrate on studying.
Why is this happening?
Because it's hard enough to concentrate on an object if extraneous sounds barge into your space, from other people's conversations to phone notifications.
How to deal with it?
The answer is simple - develop attention.
Attention, memory and thinking are the three main abilities of the brain. Of these, attention comes first when working with information.
Thanks to attention, a person perceives information, after which it is stored in memory, processed and reproduced with the help of reasoning.
If the child has low attention levels, the other functions will work worse.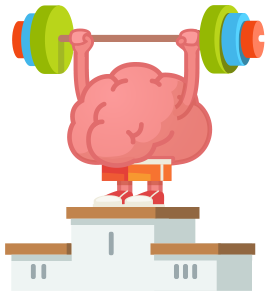 The course consists of
10 games
Large numbers
The playing field consists of digits. For successful completion of a game round, one needs to find the largest number and click on it.
Detective
Memorize the object, and then find it among the many other objects on the screen.
Quick Counting
Each round of the game shows a matrix consisting of cells filled with different colors. It is necessary to quickly count the number of cells of the selected color.
And other games
Before the beginning of classes your child will have to pass a special test, which will show how well the attention skill is developed. Next, we will create an individual training program within the course. After a month of training the system will display the statistics with the results.
Start training
Attention Development Program
You want to develop a child's attention, but you're running out of time? Then our course is for you.
7 lessons
Interesting theory
10 games
Unique author's developments
Introductory and final tests
To assess current level and results
Adaptive Program
Daily workout will adapt to your progress